MUSIC
"Make a joyful noise to the Lord, all the earth. Worship the Lord with gladness: come into His presence with singing." (Psalm 100)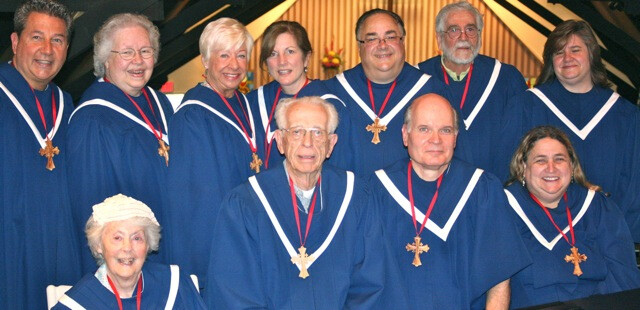 Note: Due to Covid-19 all choir activities have been cancelled. Please stay tuned for updates! Are you musically inclined? Do you play an instrument or sing? Susan Isherwood, our very accomplished and professional Music Director, would love to meet you! We have open choir rehearsals in the choir loft (accessible by stairs) at 8:15 p.m. every Thursday, and we perform every Sunday at 10 a.m. St. Margaret's choir is more than just a chorus. Our mission is to support worship in the context of the liturgy using traditional and modern styles. We know that music is an important part of worship, and when offered with the spoken word, invites a beautiful spiritual experience.
We perform from mid-September to early June. Appropriate music is presented throughout the year, with special seasonal offerings. We occasionally participate in joint services with other local churches. Our guitar group leads Evensong and Sunday worship several times during the year.
Our Music Director: Susan Isherwood is an experienced choral director, pianist, organist and teacher. St. Margaret is very blessed to have her. Susan holds a Master of Music degree in Pedagogy and Accompanying from the University of Illinois. She has taught at schools, universities and churches in Connecticut, Illinois, Maine and New York.
An added blessing: Our friendly choir shares a spirit of commitment both to the music ministry and the church body, and does so in a happy and motivated environment. If you are interested in more information, we'd love to meet you any Sunday or at open choir rehearsals on Thursday nights!