OUTREACH
We Serve in Communities Near and Far
Garden of Eatin'
Our Grow-to-Give garden, The Garden of Eatin', came into being in the spring of 2013. We built a raised bed and filled it with young plants, seedlings, and the hope that we could help feed our neighbors in need. Our crops are beans, tomatoes, zucchinis, squash, and snap peas. The garden is tended by parishioners of all ages, and we are blessed to receive help from our neighbors, the residents of the local AHRC community at the Helen Kaplan Center of Plainview. All vegetables are donated to the St. Ignatius Food Ministry in Hicksville and the Food Not Bombs distribution site in Huntington Station. Our little garden continues to have a big impact in surrounding communities! It is clearly visible to all who pass by, and demonstrates the power of love for God's people, whoever they may be, and for the life-giving bounty of God's wondrous creation.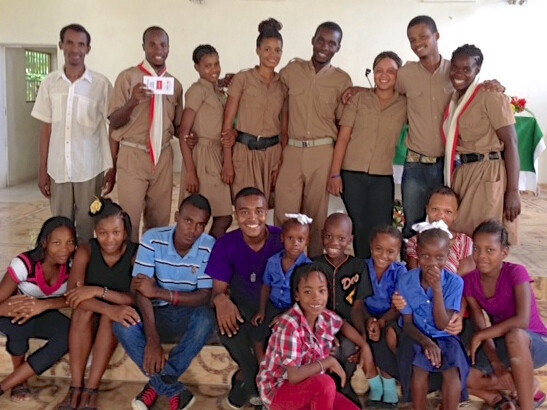 Haiti After-School Project
Early in 2017, our parishioner Soledad came to us with a request to help her start an after-school project for children of St. Andre's Episcopal Church in Cazale, Haiti. Soledad and her family donated part of their home, and St. Margaret's Church collected supplies for kids ages 6-14. Additional donations from the parish were used to install solar power. The Cazale Community Center opened in September, 2017. These wonderful kids now have facilities to complete their assignments and enjoy supervised play in a fun and safe environment. Indoor plumbing is the next priority and ongoing financial donations are welcome. Would you like to help?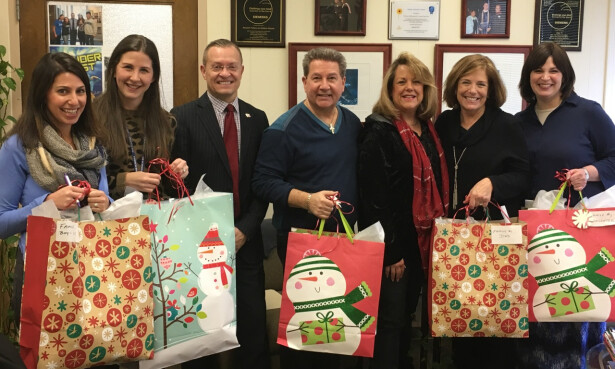 St. Margaret's parishioners Daniel and Debbie McGee delivered 2016 holiday cheer in the form of gifts, gift cards, food and clothing to representatives of the Plainview/Old Bethpage School District to help local families in need.
Christmas Giving Tree
For six years in a row, St. Margaret's has coordinated with the Plainview-Old Bethpage School District to actively share our blessings with others. St. Margaret's is a small church with a big heart - in 2016 our parishioners showered 12 struggling families with thousands of dollars in gifts and gift cards plus basic necessities such as food and clothing. Deep community involvement is part of our mission of "Seeking, Serving and Sharing" God's love in the world.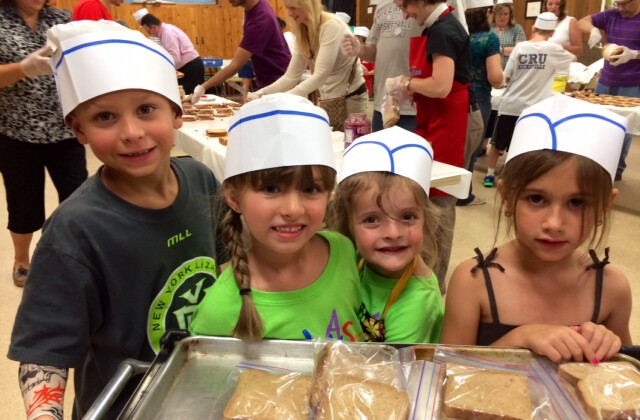 PB&J
How many peanut butter and jelly sandwiches can you make in an hour? Helpers of all ages reached a record 508 sandwiches in 45 minutes! It's a fun, easy way to benefit the hungry in our community, and kids can help by adding stickers or whatever is appropriate for their age group. We gather at the Plainview Reformed Church on Old Bethpage Road in Plainview, usually on the third Wednesday of the month at 7:30 pm. Check the website calendar for current information. Join us!

St. Ignatius Human Services
St. Margaret's helps to feed the hungry, clothe the needy, and share the blessings we have with our neighbors. We present our offerings at worship each Sunday and bring the collections to St. Ignatius in Hicksville. www.st-ignatius-parish.org/
The INN (Interfaith Nutrition Network)
Every other month, members of St. Margaret's faithfully gather at the Plainview-Old Bethpage Reformed Church to prepare peanut butter and jelly sandwiches for guests of the INN. This wonderful and fun-filled effort engages parishioners of all ages and abilities. www.the-inn.org/
Hunger Banquet
In March, 2017, our Confirmation Class hosted St. Margaret's first Hunger Banquet. This eye-opening event raised awareness of hunger issues all over the world. We brought about 100 lbs. of non-perishable food to a local food bank, and raised more than $1,000 for The Heifer Project. This highly rated international charity encourages sustainable farming. Our donation was enough to provide two cows and one goat. Our church youth have a long history of choosing The Heifer Project for their well-run outreach projects!
Souper Bowl Sunday
There's more to the Super Bowl than football. As players get ready for the big day, children at St. Margaret's collect cans of soup and other non-perishables to give to local food pantries. This program comes from the Souper Bowl of Caring, an organization that works to fight hunger and poverty. Our next collection will be in February 2018. www.souperbowl.org
Additional Projects
St. Margaret's is a community of faith actively involved in seeking, serving, and sharing Christ's love in all persons.
United Veterans Beacon House, Farmingdale. We gathered bags of usable clothing and household goods by the truckload to support local veterans and their families.
Hurricane Sandy: We sped into action when Hurricane Sandy hit. Our children held a delicious fundraiser, filling and selling glass jars with ingredients for soup and cookies. Parishioners gathered clothes, personal and household necessities to give away. We also traveled off-site, co-hosting a benefit performance of The Nutcracker.
Paper Plate Campaign: In response to lessons about hunger and poverty, our young people spearheaded a parish-wide effort to ask elected officials to keep important local funding for food relief.
The people of St. Margaret's pray daily for those in any type of need or trouble, and look for ways to ease suffering and pain. The examples listed above are just some of the ways our parishioners live into the Commandment to "love our neighbors as ourselves." Everyone at our parish is invited into a fellowship of faith and service.