LEADERSHIP

You can find St. Margaret's on Facebook at https://www.facebook.com/stmargaretepiscopal. and we can be reached at .
Meet The Rev. Isaias Ginson
Priest-in-Charge of
St. Margaret's Church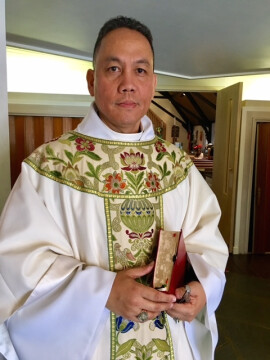 Father Isaias Ginson became our Priest-in-Charge on May 1, 2017. He's been quick to meet the parish and participate in community activities, encouraging multicultural unity. He has even managed to get us out of the pews and onto the lawn at 8 a.m. for beginner-level Tai Chi classes (Thursdays and Saturdays)! The good news is our lawn is big enough for the whole community — so the whole community is welcome to come exercise with us! We look forward to sharing many new ideas and ministries together.
You are always invited to join us for worship, Bible Study, outreach and activities for all ages. Come experience an exciting new stage of life here at St. Margaret's!

Fr. Isaias' Hours
Sunday: 8 a.m. – 3 p.m.
Monday: 9 a.m. - 4 p.m.
Tuesday: 2 p.m. - 4 p.m., evenings
Thursday: 9 a.m. - 4 p.m.
Saturday: Pastoral visits to homes, hospitals, etc.

Susan Isherwood, Music Director
Susan, a highly experienced choral director, organist and teacher, came to St. Margaret's in September 2014. She holds a Master of Music degree in Pedagogy and Accompanying from the University of Illinois, and has served at schools, universities and churches in Connecticut, Illinois Maine and New York. Susan looks forward to working with the choir during the program year and enhancing the beauty of our 10 a.m. Sunday worship service. Singers and musicians are encouraged to speak with Susan about participation.
Rehearsals are held on Thursday evenings.

Debbie McGee, Cemetery Relations Coordinator
Debbie McGee, a long-time member of the parish, serves Tuesday-Friday and by appointment on Saturday as the part-time Cemetery Relations Coordinator at St. Margaret's Cemetery. Debbie's expertise is in helping families coordinate arrangements and order markers for their loved ones. Cemetery Office hours are 9:30 a.m. - 2:30 p.m., Monday-Friday. Contact the office at
Will Shaw, Groundskeeper/Sexton
Will Shaw serves as the part-time Groundskeeper/Sexton for St. Margaret's Cemetery. He maintains the extensive property in both the cemetery and on the church grounds. Will has been on staff for more than 10 years.