LEADERSHIP

You can find St. Margaret's on Facebook at https://www.facebook.com/stmargaretepiscopal. and we can be reached at .
Meet The Rev. Dr. Charles Colwell, Interim Priest
St. Margaret's Church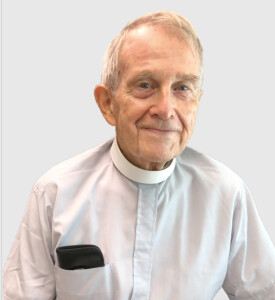 Father Charles R. Colwell
Interim Priest

We are excited to welcome Fr. Charlie as our new Interim Priest! He joined us here at St. Margaret's on Sunday, Sept.19, 2021. Fr. Charlie is eager to meet the parish and all newcomers looking for a welcoming faith community. We look forward to sharing many new ideas and ministries together. Fr. Charlie will be in the church office one day a week.
Fr. Charlie, a native of Maine and a graduate of the University of Maine and the General Theological Seminary, retired a decade ago after 36 years as the Rector of the Church of St. Barnabas in Irvington-on-Hudson in Westchester, N.Y. Co-incidentally, he began his ministry at another St. Margaret's Church located in the South Bronx and, in 1967, became Associate Rector of the Church of The Holy Trinity in Manhattan.
In his nearly 55 years as a parish priest, Fr. Charlie has held many leadership roles in The Diocese of New York: Twice President of the Standing Committee; Chair of Bishop Sisk's Transition Committee; Chair of The Ministry Commission; and member of the Evangelism and the Alcoholism and Substance Abuse Committees.
After 9/11, Fr. Charlie founded The Center for Jewish-Christian-Muslim Understanding, Inc., and has served on the boards of many civilian agencies and organizations. He has also produced 4 videos for cable television. In 1998 he was the first recipient of The St. John the Theologian Award for pastoral care by the Bishop of New York. In 2008 he received a Congressional Citation from Congresswoman Nita Lowey for his interfaith work in Westchester County. The same year he was honored by The American Muslim Women's Association. He published his memoir, "Collision of Worlds: A Priest's Life," in 2008.
Since his retirement, Fr. Charlie has served as Interim Rector at 11 parishes. His wife Judith, a native Long Islander, is a retired psychotherapist. The Colwells, who reside in Oyster Bay, have three grown daughters and 11 grandchildren.

Susan Isherwood, Music Director
Susan, a highly experienced choral director, organist and teacher, came to St. Margaret's in September 2014. She holds a Master of Music degree in Pedagogy and Accompanying from the University of Illinois, and has served at schools, universities and churches in Connecticut, Illinois Maine and New York. Susan looks forward to working with the choir during the program year and enhancing the beauty of our 10 a.m. Sunday worship service. Singers and musicians are encouraged to speak with Susan about participation.
Rehearsals are held on Thursday evenings.

Debbie McGee, Cemetery Relations Coordinator
Debbie McGee, a long-time member of the parish, serves Tuesday-Friday and by appointment on Saturday as the part-time Cemetery Relations Coordinator at St. Margaret's Cemetery. Debbie's expertise is in helping families coordinate arrangements and order markers for their loved ones. Cemetery Office hours are Tuesday-Friday 9:30 a.m.—3:15 p.m. (closed Mondays) and by special appointment. Contact the office at
Will Shaw, Groundskeeper/Sexton
Will Shaw serves as the part-time Groundskeeper/Sexton for St. Margaret's Cemetery. He maintains the extensive property in both the cemetery and on the church grounds. Will has been on staff for more than 10 years.