HISTORY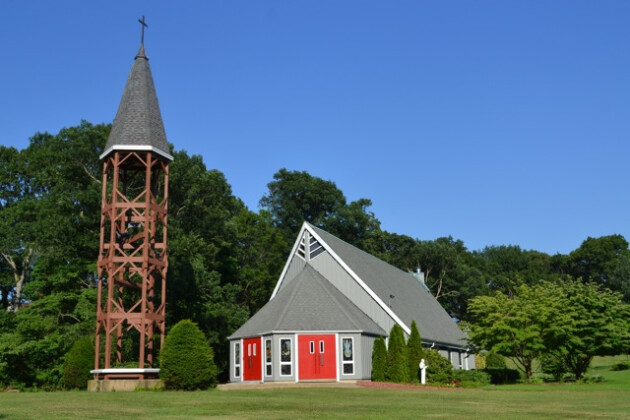 In 1963, the Diocese of Long Island realized its plan to establish an Episcopal presence in Plainview, N.Y. The mission church of St. Margaret began at a time when the world, the nation and the region were on the cusp of change.
We remember with a good deal of respect and admiration the pioneering parishioners who helped establish St. Margaret's. It was one thing to have a roof over our collective heads, and yet another to furnish and supply the myriad details needed to furnish a mission church. Our pioneer forefathers and mothers moved into hardly more than a shell of a building, with little or no financial backup. Together they gathered needed items including vestments, altar supplies, seating, Sunday school supplies, a table and chairs for children and adults, and, of course, kitchen equipment and supplies.
Midnight Mass, the first service of St. Margaret's mission church, was held on Christmas Eve, 1963, at the American Legion Hall on Southern Parkway in Plainview. Services continued to be held there until the church was built.
In the summer of 1963, the Vicarage (Rectory) was the first building erected on the 10.2 acres donated to the Diocese by Edwin P. Shattuck. The residence was built first so that Father Heine, our first Vicar, and his family could live on campus while leading the new mission. On Sunday, November 15, 1964, the congregation moved to its permanent home in the beautiful building we worship in today.
Over the years, a succession of clergy has led the Church of St. Margaret, either as vicars, rectors, supply priests, interims, or as priests-in-charge. Each brought his or her particular leadership gifts and style, and encouraged the congregation to live out their Baptismal covenant.
The Rev. William H. Heine (1928-2004) was our first Vicar. Father Heine served us from 1963-1969, and was ably gifted in getting his young congregation to volunteer for the work to be done.
The Rev. Stephen H. Jecko (1940-2007), our second Vicar, served us from 1969-1973. Father Steve's engineering background was truly a blessing in that he was able to determine that the church foundation was in jeopardy. That problem was remedied. Father Steve was instrumental in guiding the young congregation to develop its evangelical sense of purpose. St. Margaret's sponsored programs such as Faith Alive weekends, Key 73, (a national call to spiritual renewal), and Marriage Encounter (renewal weekends for married couples). He also initiated events that were totally parochial, such as instructed Eucharists (teaching services) on occasional Sunday mornings, and prayer group meetings known as Friday Night at the Rectory.
The Rev. James A. Hanisian, who served from 1974-1978, was our third Vicar. His dynamic leadership, gifted oratory and contagious spirit led us to the realization of what we could accomplish.
The Rev. Theodore W. Bean was our fourth and last Vicar, in 1980. Father Bean was instrumental in helping bring St. Margaret's to parish status. Our Lord sent Father Bean to us when we needed him, and we are thankful for his dedicated work.
The Rev. John A. Meyer became the first Rector of St. Margaret's in 1982 and served the congregation until his retirement in 2002. It's hard to distill 20 years of ministry, but during Father Meyer's time as rector, St. Martha's Hall (now called Sanders Hall) was dedicated, our cemetery was designed and instituted, a new digital organ was donated, a hand-bell choir and a guitar group were started, new church windows were installed and fitted with stained glass, a new electronic carillon was purchased and installed, extensive repairs were made to the Bell Tower, and a needlepoint kneelers project was initiated and dedicated. Father Meyer encouraged participation in Cursillo and Teens Encounter Christ (TEC) retreat weekends. The beginning of the Episcopal/Lutheran Covenant was initiated in 2001 during his tenure.
The Rev. Peter Lai, our second Rector, served from 2004-2009. During his tenure Father Peter developed a family service of Holy Eucharist, with prayers, music, and sermons adapted especially to the understanding of young children.
The Rev. Jennifer Andrews-Weckerly, our third Rector, served from December 2011-March 2015. Mother Jennifer worked to increase our involvement in the community, focusing especially on sharing our blessings with our neighbors. In 2013, she organized five weeks of teaching during our Lenten coffee hours, which led to planting a Grow-to-Give garden. This project, dubbed "The Garden of Eatin', is still having a positive impact in the community. Produce is given to St. Ignatius Food Pantry in Hicksville, and to Food Not Bombs in Huntington Station.
As we conclude our fifth decade and begin our sixth, we are again on the cusp of change. There is a renewed spirit of mission and vitality all around us. And we are blessed to know that a promising phase of growth and ministry is close at hand.
We give you thanks, O God, for the gifts of your people, and for the work of many hands, which have beautified this place and furnished it for the celebration of your holy mysteries. Accept and bless all we have done, and grant that in these earthly things we may behold the order and beauty of things heavenly; through Jesus Christ our Lord. Amen. (BCP, page 573)
- The 50th Anniversary History Committee