FORMATION & COMMUNITY
Every Sunday is "Welcome Home Sunday" at St. Margaret's! We love welcoming visitors and new members, reconnecting with friends and working together to bring renewed life to communities near and far.

Join us as we learn and grow together!
We hold a regular Holy Eucharist every Sunday morning at 9:30 am. Masks are recommended. Be sure to check our website calendar and monthly articles for current offerings.
• Sunday School: You are invited to inquire about Christian Education opportunities on Sundays at 9 a.m. during the school year. Be sure to check the calendar for each date. Sundays off coincide with school vacations.
• Thursdays at St. Margaret's: Worship + Bible Study/Book Group: We meet Thursdays online at 10:30 a.m. for a one-hour, lay-led Bible and Book Study. No special knowledge is needed to participate, just an inquiring heart and mind. All are welcome as we learn and share.
We care for our community.
• Pastoral Care: St. Margaret's clergy and lay leaders work together to support the needs of our extended community and surrounding neighborhood. Clergy are available for your pastoral care and spiritual needs. Lay Eucharistic Ministers visit those in need of prayer, comfort and/or Communion. Please notify the parish office of a hospitalization, pastoral emergency, or death. Laying On of Hands and Healing Prayer, as well as the Rite of Reconciliation of a Penitent may also be scheduled with the clergy.
• Prayer: Our Intercessory Prayer Group prays regularly for those who request prayers. You need not be a member of the church to ask for prayers for others, or receive prayers for yourself or your loved ones. We also welcome requests from families of those interred at St. Margaret's Cemetery on our grounds. Please let us know how we can help.


Community spirit is alive year-round.
• Fall Fair: Our biggest fundraiser of the year has traditionally been our Fall Fair. Please check back for future dates.
• Coffee Hour: A modified and simplified Coffee Hour following the 9:30 a.m. Sunday service will resume this Fall. Join us in the Undercroft after the service for some special St. Margaret's hospitality. It's a great place for visitors and parishioners to get to know one another. All are welcome. Stay tuned for updates!
• Lunch Bunch: Come, be part of an old-fashioned social each month. It's a great place to meet new people and form new friendships. We gather for a brown bag, "bring-your-own" lunch and beverage at noon. It's a great mid-week opportunity to relax and catch up. Bring a friend along, too! (currently on hold)
Tai Chi and Qi Gong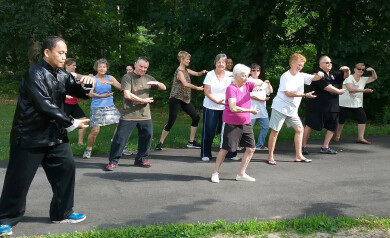 Fr. Isaias Ginson was a master teacher at this outdoor class. Participants were invited to stand, stretch, focus their breathing and learn synchronized movements designed to bring a healthy and spiritual start to the day. We all enjoyed this new class! All ages and abilities were welcome. No prior experience was needed. We're all beginners. (currently on hold)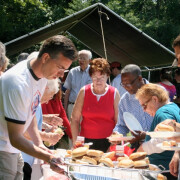 • Annual Parish Picnic:
Our Parish Picnic marks the end of the program year and includes games, food and beverages, and even a homemade water slide for all ages. The Parish Picnic is a Sunday full of fellowship and fun.
• Seasonal Hospitality:
St. Margaret's is a place of active fellowship, with a full slate of seasonal get-togethers, potlucks and parties. We start Lent with a Shrove Tuesday pancake supper and finish with a two-acre Easter Egg Hunt for kids the day before Easter Sunday. There's lots to do all year round. (Please check back for all future Covid-related health and safety changes.)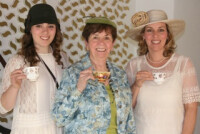 • High Tea:
For this spring social, ladies of the parish dress up, invite family and friends, and enjoy tea, scones and light finger foods. We traditionally have lovely boutiques with gifts for your special someone. Tickets ($25 donation) are sold in advance. (on hold due to Covid-19)
Raffle drawings, a door prize and a hat prize contribute to the fun. 10% of the net proceeds are designated for outreach to the wider community.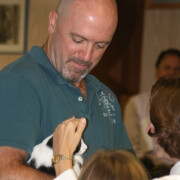 • Blessing of the Animals:
On Oct. 3, 2021, at 9:30 a.m., we will honor St. Francis of Assisi's love of creatures great and small. St. Francis' life exemplified harmony between humans and nature, and our worship will do the same.
Clergy bless household pets and affirm the special relationship that animals can hold in our lives. The community is invited to bring leashed, crated or caged small animals. You, your pets, your family and your friends are all welcome to participate in this unique worship service. (Masks are still recommended at all services and events.)