Welcome Back!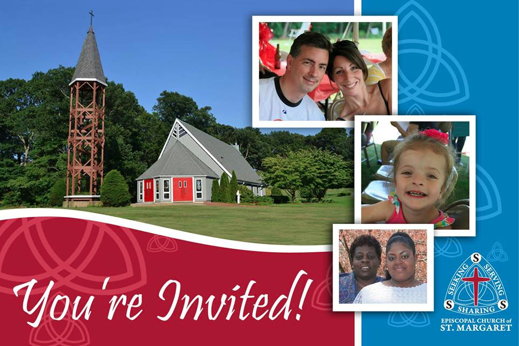 This coming Sunday is what we call "Welcome Back Sunday," at St. Margaret's. The Welcome Back is not meant to acknowledge that parishioners have been away all summer, despite the fact that I have heard anecdotally that Robin Williams once said that Episcopalians are the only people God trusts enough to take the summers off from Church. No, Welcome Back Sunday is a time that we are welcomed back to the program year along with all the fullness that the program year offers. For us, Welcome Back Sunday means returning from one Sunday service to two services, the return of educational and formation opportunities, more fellowship activities, and generally more life and energy around the church.
To prepare for Welcome Back Sunday, invitations have been sent out to our neighbors, our website has been redesigned, a welcome breakfast has been planned, a full line-up for the fall is all set, and in general we are hyping up parishioners to get back into the swing of the program year. We have been sharing videos about Welcome Back Sunday – my personal favorite being this one. But despite the fact that I am energized and excited about what this program year has to offer, I am aware that for many, Church is still an experience that many keep at arm's length. Perhaps you never grew up in a church setting, perhaps you began to feel unwelcome in church, or maybe the Church has actively hurt or disenfranchised you. Whatever the reason, for many Church is seen as an irrelevant experience to your everyday lives.
For those who have been hurt, I completely understand why you keep your distance. Having been severely judged by someone who claimed to love the Lord, I understand why you would keep up your guard and be suspicious of any church enthusiasts like myself. But I must say, there is a part of me that aches to share the joy, love, and sense of wholeness I have found through the Church. Yes, the Church is flawed, and full of sinful people, but at its very best, the Church is a place where people can vulnerably step forward with their struggles with God and be invited along a spiritual journey in the context of a community of seekers. I think that is why my heart aches when I hear songs like Macklemore's "Same Love." In it, he sings about the ways that Church has deeply wounded our gay and lesbian brothers and sisters. His words make me want cry out to the world that the Church has another way of being too – a way of love.
So this week, if you find yourself without a Church home, without a place to ask the hard questions about God, or without a community who lets you be you in the journey, come to Church. If you are near Plainview, I hope that Church will be St. Margaret's. But if not, I hope you will look for a Church that lives into what Jesus dreamed of for the Church – a community of faith living the way of love. Whether it has been a week since you have been to church, years, or you have never been to church, I say to you, "Welcome Back."