LEADERSHIP

You can find St. Margaret's on Facebook at https://www.facebook.com/stmargaretepiscopal. and we can be reached at .
The Rev. Christina van Liew, Priest-in-Charge (part-time)
St. Margaret's Episcopal Church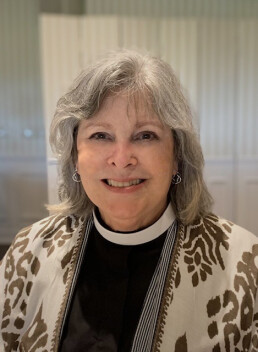 St. Margaret's welcomed Mother Christina van Liew as our new Priest-in-Charge (half-time) on Sept. 1, 2022. She comes to us with a long professional history of guiding people through life's changes. In fact, she was a Nurse Care Manager for High-Risk Childbearing Families in Oregon before answering the call to ordained priesthood.
After graduating in 2004 with a Master of Divinity (M.Div.) from General Theological Seminary, she served as a Curate at St. John's (Cold Spring Harbor); Rector at Episcopal Church of the Resurrection (Williston Park), and Interim Priest-in-Charge at both St. Thomas (Farmingdale) and St. Mark's (Islip). She has also served on the Board of Directors of Camp DeWolfe, Diocesan Council and is a Safe Church Trainer.
Mother Christina is a trained Consultant and Clergy Coach, as well as a Certified Spiritual Director. In addition to being St. Margaret's part-time Priest-in-Charge, she serves the Diocese of Long Island as a Consultant for other parishes in transition.
Mother Christina previously served as Chaplain for the Albertson Fire Department and trained as a Critical Incident Responder. She became Certified in Congregational Development and helped two congregations (Church of the Nativity (Mineola) and St. Andrew's (Williston Park) merge into what is now Church of the Resurrection (Williston Park).
Mother Christina lives in our rectory with her twin brother John. They hope a dog will soon join their household. Mother Christina has two grown daughters; one lives in Texas and the other in Australia.
Years ago, a priest gave Mother Christina the nickname Xina. He explained, "X is for Christ, + ina." She often signs emails as "MoXina." She jokes that any resemblance to "Zena: Warrior Princess" is purely coincidental.
Mother Christina's office hours are generally 9:30 a.m. – 1:00 p.m. (Tuesday-Wednesday-Thursday) and by appointment. She is also available for pastoral emergencies.

Susan Isherwood, Music Director
Susan, a highly experienced choral director, organist and teacher, came to St. Margaret's in September 2014. She holds a Master of Music degree in Pedagogy and Accompanying from the University of Illinois, and has served at schools, universities and churches in Connecticut, Illinois Maine and New York. Susan looks forward to working with the choir during the program year and enhancing the beauty of our 10 a.m. Sunday worship service. Singers and musicians are encouraged to speak with Susan about participation.
Rehearsals are held on Thursday evenings.

Debbie McGee, Cemetery Relations Coordinator
Debbie McGee, a long-time member of the parish, serves Tuesday-Friday and by appointment on Saturday as the part-time Cemetery Relations Coordinator at St. Margaret's Cemetery. Debbie's expertise is in helping families coordinate arrangements and order markers for their loved ones. Cemetery Office hours are Tuesday-Friday 9:30 a.m.—3:15 p.m. (closed Mondays) and by special appointment. Contact the office at
Will Shaw, Groundskeeper/Sexton
Will Shaw serves as the part-time Groundskeeper/Sexton for St. Margaret's Cemetery. He maintains the extensive property in both the cemetery and on the church grounds. Will has been on staff for more than 10 years.